Mechanical Fuel Injection
Sample Reports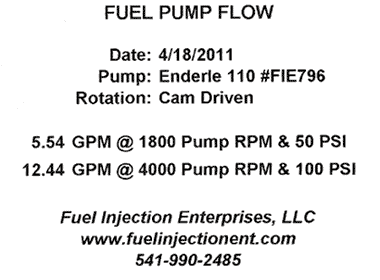 Standard Flow Tag - This is our most basic fuel pump flow tag. Some flow tags floating around out there do not specify the pressure at which the flow was measured. This means the flow number is nearly worthless! The flow of a pump against a precise known back pressure is critical to determining a safe tuneup and evaluating pump health.
Our basic pump checkout includes observations under two standard conditions; 1800 pump RPM and 50 PSI back pressure and also at 4000 pump RPM and 100 PSI back pressure at a standard 68F and .792 specific gravity (methanol). If you use a different fuel, we can deliver numbers that are real-world for your application. Along with a flow test, pumps are disassembled for inspection of bearings, rotor, impeller, body, and overall wear. All parts are thoroughly cleaned, internal clearances reset, and a new front seal is included.
To help keep you from misplacing your flowtag, ours are DECALS. Stick your flowtag inside your logbook, toolbox lid, the wall of your trailer, etc. We use a thermal printer so it's impervious to smudging when exposed to water or fuel.
Click the images below to view the full size PDFs