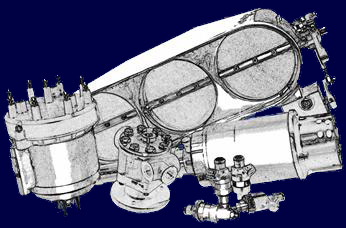 Contact Us
The Fuel Injection Enterprises company car "One Hot Chili Pepper" was fitted with a video camera on an outing at Woodburn Dragstrip in Woodburn, Oregon. Below are video clips from eliminations on Sunday, June 23rd 2007 at Woodburn's "Oldies But Goodies" event.
Ride along for a mid-7 second pass at nearly 180 MPH looking forward at driver's eye-level. Then see the view from behind as The Chili Pepper runs away from the competition in the final round and throws the laundry out. The roar of the mechanically injected, nitromethane-powered small block Chevy is a bit much for the camera's tender microphone! The sound fidelity is somewhat poor.
These 360 X 240 videos have been edited for length and the quality has been adjusted to keep them to a managable size for the web.
Front View - 1.8Mb download
Watch for the win-light on the retaining wall at the right just past the finish line. Below the magneto, you can see the throttle linkage move as the pedal is mashed hard when the tree flashes yellow. The front wheels are just barely touching the track until about 250' into the pass.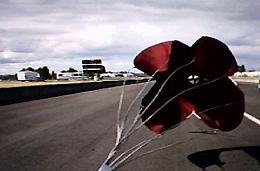 Rear View - 2.3Mb download
Note the strong crosswind (the American flag flying near the tower). At the end of the run and at top speed, the car makes a fairly deliberate move toward the center line due to the wind.