Frequently Asked Questions about Magnetos
General Mag Questions
Super-Mags
Vertex Mags
General Mag Questions
Magnetos seem to be compared by their output amperage. Are the numbers on the labels really a good way to compare one mag to the next?

The different brands of magnetos are indeed rated differently. Comparison between brands based on advertised amperage can be VERY misleading. Click here to watch our video: Measuring and Comparing Magneto Generators that covers this topic.

Can I hook a multi-meter up to something while the motor is running to get a sense of the mag's strength and health?

No, there really is nothing you can check on a mag spinning on a running motor that will do you much good. The mag must be set up a specific way and spun up on a machine with test equipment connected to really see anything useful. If you have spark and the timing is staying put, that's about the extent of "on the car" testing that can be done.
How long will the magnets in my mag stay charged? How often should I have it serviced?
The magnets lose their energy slowly with use -- they don't get any weaker from sitting on the shelf or on a motor that isn't running. If you get 50 passes or less per year on your car or the motor is spinning less than a few hours total (circle track), you're probably fine to send it in every other season. If you are putting many laps on your car, consider an annual service the minimum. If you lap the thing every week and find that the ignition gets weak plan on more regular service or consider investing in rare earth magnets that don't need recharging. Be aware that mags do not like moisture and will rust and corrode at an alarming rate! Part of sending your mag in annually is to make sure everything is healthy. If you plan to only do this every other year, be sure to pull the mag and keep it warm and dry. Leaving it in a damp, humid trailer can do damage to the mag and will leave you with problems.
My motor won't start and there seems to be no spark. Are my magnets dead?
The magnets in a mag never go completely dead. They lose energy slowly with use after a charge until they reach a certain point and then they stabilize. It is more likely that the coil has failed, the points are severely fouled, or there is a short somewhere. A magnet never gets so weak that it won't spark at all unless the plug gap is huge (more than .020") or the magnet has been de-magnetized. Welding on your car without first removing the mag is supposedly one way to do this.
I run in a damp environment. Should I plug/seal-off the vent holes in the cap to keep moisture and dirt out?
The arcing and sparking that occurs inside of a magneto between the rotor and the cap terminals generates a huge amount of ozone. Ozone is very corrosive and causes things to rust and fuzz-up very quickly. Also, as the temperature of the magneto and the surrounding air changes, a sealed mag will end up with condensation and moisture inside. The vent holes are meant to allow ozone to escape and moisture to dissipate. If you need to keep moisture out, you can use tape to make a flap over the vent holes that is open on one side resembling a louver. By aiming this the right direction, you can keep the vents intact and keep dirt, crud, water and oil out of the magneto without accelerating rust, corrosion and the issues that come with it.
Isn't it better to have a mag that is "locked out" verses one with some kind of advance mechanism in it?
It depends on the application. Most drag race motors seem to do fine with a locked out mag that contains no centrifugal advance. Many high compression gasoline engines however kick and buck against the starter. Employing some kind of advance mechanism allows the static ignition timing while cranking to be much lower allowing it to start easier. Once the motor is started, the advance can be set up to come in quickly so that it's "all in" early. When used in this way, it really is more of a "start assist" than anything else. In street applications, some centrifugal advance can really help power and prevent detonation. The advance mechanisms can become sticky and corroded over time however. Mags that have not seen service in a while can become "locked out" on their own as the mechanism gums up and quits moving freely.

If a mag is so powerful, why can I run a .045" plug gap with an electronic ignition and only .018" with a mag?

By running a tight plug gap, you are making sure that the spark gets to the plug. If you run a wider gap than that with a mag, you may end up with the spark arcing to other objects inside the mag or crossfire between plug wires. The spark plug needs to be an easy path or it will find another.

How much mag do I *REALLY* need for my application (drag race, blown alcohol, nitro, circle track...)

No one really knows for sure what you'll require, but we can make some educated guesses based on the experiences of others and their equipment. Here are some general rules of thumb that will ensure good performance...



Circle track:

Standard OAC Vertex or Sprint Mag (up to 2.5 amps)


Street/Hot Rod:

Any standard OAC Vertex or Sprintmag


Blown gas:

2-3 amp Vertex or Super-Mag II


Mild Blown alcohol (up to 10 PSI of boost):

3 amp Vertex or Super-Mag III


Moderate Blown Alcohol (up to 20 PSI boost):

4 amp Vertex or Super-Mag IV


Hard core Blown alcohol (~30 PSI boost):

6 amp OXC Vertex or 6 amp Super-Mag V


Injected Nitro (50%):

4 amp Vertex or Super-Mag IV


Injected nitro (up to 100%):

6 amp OXC Vertex or 6 amp Super-Mag V


Blown nitro:

7-8 amp Super-Mag V or 10 amp Super-Mag+


I'm considering "moving up" to an MSD electronic mag. What should I know?

There are pros and cons to each (points vs. electronic). Basically, all the cons of the MSD electronic mags are not an issue if money is no object and you have enough space for the larger equipment.

First of all, don't let the advertised "amperage" numbers fool you into thinking that the electronic mags are vastly superior in output. A hot Super Mag IV is pretty much equivalent to an MSD mag 12 at the spark plug (voltage and current). An 8 amp Super Mag V is pretty much the same as an MSD mag 20 at the plug. A 10 amp Super-Mag+ is nearly 3X the output of a mag 20 at 10,000 RPM. The two styles of magnetos are totally different and the primary amperage generated means NOTHING when comparing output...it's like comparing apples and oranges. Unless you're running Top Fuel, a mag 44 is probably expensive overkill.

Magnetos with contact points

Pros:

Smaller initial investment
Lower cost of ownership (parts, service, etc.)
Less $ in spare parts required in the trailer
Easily field serviceable
Good, used units available/plentiful

Cons:

Points eventually wear out
Rev limiters and timing retards more difficult to integrate

Electronic magnetos

Pros:

No points to wear out
Rev limiters and timing retards are more easily added

Cons:

Larger initial investment
Higher total cost of ownership
Shortage of used units and spare parts (must buy new)
Not field serviceable (spare electronics box needed)
Requires more cranking speed than a points style mag of similar output

Why don't you use lacquer on all the screws in the magnetos that you service like the other mag shops? Won't all the screws come loose on me?

No, those shops might tell you that the paint keeps the screws tight, but there really isn't a problem with screws coming loose in a magneto. It serves other purposes, none that we at FIE feel are warranted. The biggest reason for the paint is to cover up the color used by the last shop and make it look like they did something. Most places do not tear the mag completely down like we do. Since we clean everything and use all new hardware, we don't need to cover up anybody's red paint with our yellow paint. We don't need to do that to make it look like we did something, usually it is obvious by the clean, gleaming parts and new stainless screws everywhere.

Another purpose of the paint is to signify to them that a particular screw has been tightened. We keep track of this and don't need the paint to remind us of which screws we've torqued.

Yet another is to let them know if you've tampered with the mag or not. If you have problems and send it back to them, they want to be sure you didn't open something up, mess with it and blame them. We trust you.

The heat, ozone and wind present inside a magneto causes the "nail polish" to flake off and can in itself cause problems. Paint dust and chips in the points are not desirable!

We do use white, non-corrosive silicone only on places where wire terminations are screwed to fixed attachment points. The vibration of the wires can indeed cause these screws to loosen. The silicone insulates, absorbs the vibration and keeps the terminal joint clean and corrosion free. We are careful to use special electrical grade silicone that does not emit acetic acid as it cures. Regular silicone gives off acidic fumes that corrode metals (including contact points!).
Super-Mags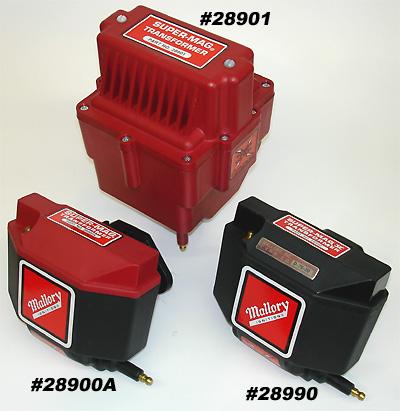 Which coil/transformer should I use with my Super Mag?

There are FOUR transformers (coils) currently available from us for magnetos. The red-topped #28900A (lower left) is for Sprintmags and Super-Mags up to 4.5 amps primary. The black-topped "nitro coil" #28990 (lower right) is for hotter mags between 4.5-6.5 amps. The #28901 Monster coil (rear center) is for anything over 5 amps. These transformers can be used with OXC Vertex magnetos just fine as long as they are properly matched to the output. The fourth coil is the big 28920 (not pictured but just like the 28901 except black). This coil is only to be used in naturally aspirated nitro motors or supercharged nitro applications below 8000 RPM. This coil makes more voltage but also a tremendous amount of spark duration. Above 8000 RPM, there is hardly any "off time" between the cap terminals and cross fire can easily result.

Can't I use the smaller 28900A or 28990 with my 8 amp Super Mag 5?

The red-topped 28900A should never be used with a mag that powerful. The 28990 isn't that great either. The reason is because the winding "turns ratio" inside the coil is matched to a particular range of output. When a hot mag is pumped through the wrong coil, the spark duration ends up very long. You might think this would be good, but it isn't at all. Even with the large diameter pro cap, the spark lasts so long, that it can jump to the wrong terminal in the cap. There isn't sufficient "off-time" to ensure that the spark goes to the cylinder it should. Cross-firing in the cap and missing and sputtering under a load are the symptoms. You might also see scorched or melted rotor contacts.

Can I use the black topped coil with my 3.5 amp mag? Will I get more output?

You can, but it won't really gain you much. Current at the plug will be greater, but voltage is what makes the spark jump the gap. The consequence of using a smaller mag than a coil wants is that the motor may be hard to start. It might require a faster cranking speed to make enough spark to start the motor at all.

The brass rotor blade keeps coming loose on my Super Mag V. What's going on?

Heat! There is a special rotor you need to use to prevent problems with Super Mags over 7 amps. The brass blade is larger and makes a circular loop around the center of the rotor. This makes it able to dissipate more heat. Also, the screw is epoxied in place so that it won't come loose...ever! Some folks think they can put loctite on the screw of the regular rotor and make that work. Heat causes loctite to loosen! The brass blade will come loose while the motor is running and can cause major damage to the mag and /or the motor. When in doubt, put the high-temp rotor on it. They aren't that much more money. The brown plastic used on the old high-temp rotors is the same as the red material...just a different color. The new high-temp rotors are built using the red rotor body. The TANG is the difference!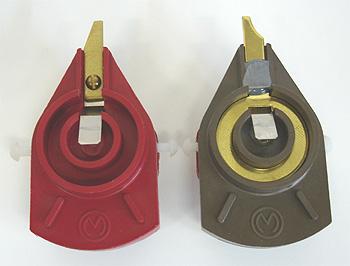 I see people running the small style cap on a Super Mag IV. I thought you couldn't do that!

Most people doing this have clearance problems with blowers or firewalls and don't have room for the big pro cap. You can get away with it on mags under 4.5 amps if everything is kept in top shape. If the cap contacts are clean, the inside of the mag is kept oil free, the plug wires are in good shape, plug gaps on the small side, etc. If anything at all is marginal, misfiring and problems can result.

What are the yellow or white "sticks of dynamite" on the outside of the mag? Do they help it make more power?

The big yellow things are capacitors or giant capacitors. These prevent the points from arcing - that's all they do. These are like electrical buckets that give the current someplace to go for a brief instant as the points are opening. The more current, the bigger the bucket needs to be. The more output the mag makes on the primary side, the more capacitance it needs to keep from cooking the points. The standard capacitors are:



.36uF (mounted internally on the point plate in Super-mag II's and smaller)
.47uF (white, mounted internally on Sprintmag+ mags)
.56uF (long metal cased unit on the outside of Super Mag III & IV's)
1.0uF (medium sized yellow or white unit for mags from 4.5-5.5 amps)
1.6uF (big yellow or white for 5.5-6 amps)



Combinations of the 1.0 and 1.6 capacitors can be used up to 10+ amps. So, the more capacitors you see, the more powerful the mag, but the capacitors don't make power. Putting too much capacitor on a mag (or "overcapping") sucks the life out of things and hurts the rise-time of the spark.

What are the differences between the Super Mag 2, 3 , 4, 5 and +?

The Super Mag 2 and 3 are identical except that the magnet in the Super Mag 3 is stronger at 3.8 amps over the typical 3.3 of the SM2. The Super Mag 3 has a long, metal .56uF capacitor on the outside, while the Super Mag 2 has a smaller .36uF on the inside. Both the 2 and 3 need to be recharged periodically.

The Super Mag 4 contains the same windings internally as the 2 and 3 but has a more powerful "rare earth" or neodymium magnet that makes approximately 4.2 amps and never needs recharging. It has the same long metal cased .56uF capacitor as the Super Mag 3.

The Super Mag 5 has a different winding on the inside that changes the output drastically. They usually contain a rare earth magnet, but some have undergone a winding upgrade but kept the existing Super Mag 2 or 3 magnet. The output of the Super Mag 5 varies with magnet strength and can be setup to output anywhere from 5 to 8.3 amps primary and utilize a variety of capacitors on the outside. The Super Mag 5 should be fitted with a 3-wire harness. The extra ground provided in the 3-wire harness should be run to the engine block or cylinder heads.

The Super-Mag+ has a big maxed out NEO magnet and a special internal stator/winding to yield 10+ amps. This magneto REQUIRES our special "severe-duty" points in order to handle the extra heat. A different capacitor configuration is also required.

Are there any downsides to using the 8 amp Super Mag 5 or the big Super-Mag+?

They generate so much output, that they demand more attention than a low output mag. Replace plug wires every year, the coil wire a couple of times per season, caps every season. You just can't ignore it and expect it to run forever. Also, unless you can spin your motor over fairly fast when starting, you may have difficulty getting reliable starts. The motor needs to spin 250+ RPM to start reliably. A blower-snout starter probably won't have any problem doing this, but some stock-style, engine mounted starters may not cut it. Also, the large diameter pro cap required and the two big yellow capacitors on the outside can cause clearance problems with blowers and firewalls.

Is there a particular way I should mount my transformer (coil)?

Yes, the Mallory transformers are oil filled and the high-tension terminal must be at the lowest point (covered with oil internally) or they can fail. The best position is with the small primary terminals UP and the high-tension lead low and aimed out the side. The next best is with the high-tension terminal pointed straight down. The WORST is with the secondary terminal pointed straight UP.

Are Sprintmags worth a dang?

Sure! The Sprint Mags are pretty much comparable to a Vertex in that they are a lower output mag that can be run continuously for circle track, street, etc. They utilize an external coil and make from 1.5 to 3.0 amps depending on the model. Many (but not all) of the parts on the Sprintmag are interchangeable with the Super-Mag (except Sprintmag III's).

There's a powerful, electronic Super Mag 6, 10, 11, 20, etc. on Ebay cheap. Should I snag it?

Take a pass. The electronic Super-Mags were discontinued by Mallory years ago and parts for them are no longer available. Back when they were new (in the 80's), the power transistors used in them were not very robust compared to today's standards. The high output of these units meant that they continuously ate themselves alive and needed constant maintenance. If it's for sale cheap, it probably doesn't work and the parts are probably hard to find or not available...or they'd still be using it instead of selling it!

Can my electronic Super-Mag be converted to use points?

It depends on the model...some are easy and others would require EXTENSIVE machine work to the housing and magnet assembly. It may not be worth it unless you're a machinist and want to turn the mag into a hobby. Many of the pieces in the electronic Super series are not compatible with the other Super Mags. It may be much cheaper to buy an old Super Mag II or III and upgrade it to an 8 amp mag than convert an electronic unit to points. Feel free to send us a photo of your mag (inside the cap) and we can tell you.

How can I tell what rotation my mag is supposed turn?

Remove the rotor and look at the rotor drive plate. Aim the plate so that it is pointing up and down (12 and 6 o'clock). Now look for the dowel pins in the drive plate that locate the rotor. If the dowel pin on the 12 o'clock portion of the plate is on the right side, it is right hand rotation (clockwise as viewed from the top - Chevy and the like). If the dowel is in the left side, it's set up for left hand rotation.

Don't loosen the point plate screws thinking you can rotate it enough to compensate and make it work turning the other way. There is not enough adjustment and the points will be totally out of phase with the magnet and windings. The result will be no spark at all. Send it in and have the rotation changed.
Vertex Mags
What's the OAC/OXC thing mean?

The Vertex OAC mags are a self-contained unit with the coil mounted internally. All it needs is a ground wire hooked to the terminal on the side for a kill switch. The OXC utilizes an externally mounted coil and is typically employed in high output applications (above 3 amps). The reason is that the Vertex is a very small package that gets very hot. OAC units making more than 3 amps can suffer internal coil failures due to the high temperatures created inside. The OXC moves the vulnerable coil out of the hot mag body. The OXC usually also uses one of two larger caps available (big and bigger) and the secondary coil lead enters through the center terminal. The OAC generally uses the small cap with the internal coil feeding the rotor up through a passage in the side of the cap.



OAC

= Internal coil
OXC= External coil

Can I use the small cap on an OXC Vertex?

Yes, a terminal can be added to the top of the old fashioned small cap that allows the external coil to enter. It is not recommended to do this with mags over 4 amps however, as the voltage can easily jump around inside the very small cap and cause problems. In situations over 4 amps, you really must use one of the larger caps.

My Vertex seems very weak. What are my options?

A stock Vertex style mag makes about 1.5 amps primary with freshly charged magnets. After a good deal of use, the output can drop as low at 1 amp. Even fully charged, the Vertex is not as powerful as most other mags out there. BUT...this allows it to be used in sustained applications such as circle track, aircraft, boat and street use. The lower powered nature of the mag means it creates less heat and it can run continuously. The hotter mags (3+ amps) are only for shorter duration use (drag racing, etc.). The stock vertex can be upgraded with more powerful rare earth magnets and a higher output internal coil to make 2.5-3.5 amps without a problem. If more output is needed than that, the mag should be converted to an OXC (external coil) unit to ensure dependability.

How can I tell what rotation my Vertex is supposed to turn?

Remove the rotor and look at the top of the point cam. You will see an R or an L stamped into it. This is the intended rotation as viewed from the BOTTOM of the mag. An "L" means it rotates counterclockwise as viewed from the BOTTOM (or clockwise as viewed from the top). In other words, "L" means CHEVY rotation.

How can I tell if my Vertex is "locked out"? Can I tell if it has an advance mechanism by twisting the end by hand?

The only way to really tell is to take it apart and see if there is a advance weight mechanism in it or not. Even if it has an advance mech, it may be stuck and not working properly. The best way is to check it on a machine and see the actual advance or watch with a timing light as you rev your motor slowly. You can't tell by twisting.

Reproduction in full or part prohibited without permission.